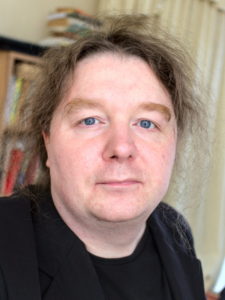 My name is Michael Reed, and I'm a UK-based freelance writer. I specialize in writing about technology, geek culture and gender politics for print and web media.
email: mike@unmusic.co.uk
phone: 07910059908.
Twitter: @rhyder
LinkedIn: My profile page
Facebook: My personal page
Flickr: Photography / graphics work
---
Publications that I have worked for

This isn't an exhaustive list, but it covers the main ones. I'm usually available for feature work, particularly for print publications. If you need a reference, look up any editors that I've worked for and ask them about me.
Feature articles for print magazine (2020 – current) Editor: Niel Mohr 
Features and interviews for print magazine. Editor: Darran Jones
Tutorials, features, reviews for print magazine. Editor: Russell Barnes
Features and reviews for print magazine. Editors: Simon Brew / Anthony Enticknap
Den of Geek
Geeky features and list-based articles for website. Some of them listed here. Editor: Simon Brew
Linux Journal
More than 80 paid features, reviews, tutorials for website. My author page.
Metro Newspaper (Website)
A feature in 2020 on Non 24 Hour Sleep Wake Disorder. Link here.
OS News
Features
Imagine Bookazines
Multiple contributions to the Raspberry Pi bookazine and reprints in many other bookazines published by the brand.
Free Software Magazine
Editor Tony Mobily
Open Democracy
An article on the economic and social benefits of shared parenting arrangements.
Linux.com
Paid features on the old version of the site
(article)
A Voice For Men
Self Publishing Review
Men's News Daily
---
The Sexual Compass
I wrote a short novel called The Sexual Compass. You can find our more about it and see some reviews on its Goodreads page. The book also has a Facebook page. If you've read the book and you enjoyed it, please, please, please post a short review somewhere or give it a rating.
---
Computer Programming
I have some experience with programming, and I spent a lot of 2020 updating my skills in that area (Unity/C#, Java, JavaScript etc). See my YouTube channel for details on that.
Other interests
I can play the guitar and I'm into MIDI sequencing. My current DAW of choice is Tracktion Waveform running on Linux. My YouTube music channel. I also get up to some other stuff like photography, cycling and running and going out at night and dancing like an idiot.