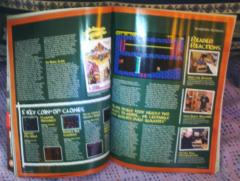 This month's Retro Gamer (Issue 101, Mar/Apr 2012) features my eight page feature on a favourite retro platform, the BBC Micro. It's immensely gratifying for me to write about the Beeb as it was my first computer. Some of you may know that it has recently celebrated its 30th birthday. It's a great platform and I genuinely enjoyed playing some of the old games. It was also nice to get in touch with some BBC Micro developers that I hadn't spoken to before while re-establishing contact with some that I already knew. I was also able to bring some of the best YouTube retrogamers into the mag (see videos here, here, here and here).
One snag with the way that the feature came together is that I ran out of room and I wasn't able to use all of the material that I was given. No matter: I plan to spin the extra stuff out into later features, and I've already discussed some ideas with the editor. More info when it's confirmed.
There is a feedback thread for the issue on the forum. As ever, thanks go to all of the people who helped me with the article.