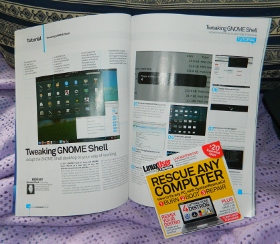 Check out issue #116 of Linux User & Developer (August 2012) to see two of my tutorials. Both are step by step features, a format that I'm starting to get the hang of now.
The first four page tutorial deals with with customising the GNOME Shell. Personally, I haven't been won over by the GNOME 3.0 interface, but to be fair to the developers, they have inserted a considerable framework for customisation by end users.
The second tutorial has a selection of tips for system rescue. Many of these tips can be carried out from standard Linux distributions, and others rely on SystemRescueCD, a live distro with an emphasis on system repair and maintenance.
Both tutorials were tough to write, but enjoyable, and I even learnt the odd new trick as I went along. I've got some more stuff coming up in later issues of the mag. In addition, I did a post for the website about the open sourcing of CDE. I got the inside scoop from a guy I met in RISC OS IRC channel. It's a seedy world that I inhabit.
Anyway, back to the grindstone and another step-by-step.