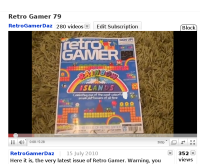 Issue 79 of Retro Gamer magazine contains my six page feature on Superior Software, the most prolific BBC Micro games company back in the 80s and 90s. The company is still in business today selling remakes of the classic back catalogue and can apparently even supply original copies of BBC Micro games.
I don't have my copy yet but you can watch Darran, the editor of Retro Gamer flicking through the issue on Youtube. As you may know, this is my third feature for this magazine. If you read it, I hope you enjoy it, and I hope I've done justice to such a great company. There is a feedback thread for the issue on the RG website.
[Update: I've got it and it looks great. I forgot to add my name to the introduction and I'm not credited elsewhere, but I did write it, I promise!]
Thanks are due to Richard Hanson, Peter Irvin, Tony Oakden and Gary Partis for allowing me to interview them.