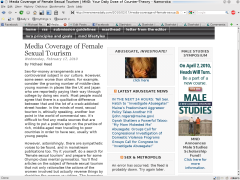 I've just had an article published over on Men's News Daily. It's a great publication for people interested in gender politics and the growing men's rights movement. Some of you will know that I have been working on a book on gender politics (see the gender equivalence subsite site for more info)for the past few years. It's also the first time that I've written for a website rather than a print mag in over a year, and it's a funny feeling to get back into the fast paced dynamic of web publishing. I hope that I'll be working with MND a lot in the future.
[update: a bit of discussion about the article here on the antimisandry.com]
The subject  of the article is the rather unpleasant practice of rich middle aged women travelling to third world countries in order to have paid-for sex with young men. In case you're wondering, yes, Haiti is a top destination for these women, or was until recently. The most infuriating aspect? Feminist writers have long condoned this in newspaper articles that spin things around so that the women are the victims in the situation.