It's that time again. This month's Retro Gamer contains my six page feature on Teque/Krisalis Software. It's my fifth article for the publication. Between 1987 and 2001, working as both a developer of original games and conversions power house, Krisalis produced hundreds of games. As ever, putting the feature together was fun but a lot of hard work.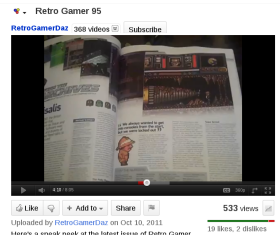 This time around, I was able to contact and interview quite a few of the people who were originally involved in the company. Krisalis was particularly close to my heart because they converted a lot of mainstream hits to the Acorn Archimedes series of computers, which was the system that I ran as a teenager. As ever, it was great to interact with people whose names I'd seen come up on the screen so often over the years. I doubt I could have imagined this sort of contact when I was a spotty teen, admiring their efforts. Thanks go to Shaun Hollingworth, Tony Kavanagh, Neil Adamson, Keith Birkett, Nigel Little and Matt Furniss for all of their help.
I don't have my copy of the magazine yet, but you can watch the editor of the magazine, Darran Jones, flicking through the latest issue on YouTube. There is a feedback thread for the issue on the Retro Gamer forum.