Linux User & Developer: Unattended Ubuntu Installation – Linux Journal: Parallel Realities: Retro-themed Linux games
This month's Linux User & Developer magazine, Issue #88, features my four page tutorial on performing unattended Ubuntu installations. [Update: It's now mirrored on the website, minus the images and boxouts.]I cover creating a modified installation CDROM and installing over the network. I enjoyed doing it, but it ended up being a LOT of work as things started to get quite technical towards the. It didn't help that most of the the online information turned out to be out-of-date or incorrect in some way.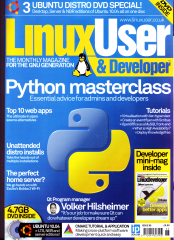 In addition, there were a few approaches that I simply couldn't write up because the results were inconsistent or unreliable. Anyway, I hope the readers find it useful, every line was carefully researched, checked and double checked. And then tested and then checked again…
The Linux Journal website has my blog post about the Parallel Realities website, a site that offers some original, retro-themed Linux games.