Linux User and Developer 98: Productivity On Linux and other news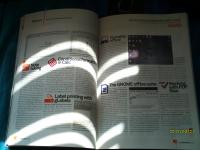 Issue 98 of Linux User and Developer (March 2011) features my four page article on productivity applications for Linux. It's basically a collection of tips and application recommendations. There are more details about the issue as a whole on the LU&D website. There should be a distro review from me in next month's issue, and hopefully, you'll see more from in the mag in the future. [Update: Actually, Russel has posted up the review, of Tiny Core Linux, in advance. Update #2: The mag, issue 99 has now been released.]
Recently,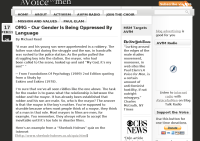 I did another guest post on my other main writing interest, gender politics. This article appears on A Voice For Men, the website of Paul Elam. The article is called OMG – Our Gender Is Being Oppressed By Language!, and it's an attack on a technique that is commonly used in text books. It's a good one for people interested in language, gender politics and/or men's rights.
The article was written quite quickly by making use of some of my notes for the book that I'm writing. However, I still haven't yet reached my goal of placing any paid writing work on the subject of men's issues. If you're in publishing and you hear of any publications that might need some men's rights or feminist critical content, let me know.
Paul's also the editor of Men's News Daily which has taken some of my posts in the past. Paul even has a ground-breaking Men's Movement call-in internet radio show. As some of you will know, I'm not a very active participant in the Men's Movement at large, as I prefer to work on my ideas for my book in isolation, but I've listened into the show and it sounds amazing.
All my musical equipment is set up at the moment. From time to time, I seem to take a year or so away from it, and when I was very poorly, pre 2005, I found it particularly difficult to stay involved with music. At the moment, I'm just getting back into practice. When I've produced a few instrumental electronica tracks that I'm happy with (probably via YouTube and maybe Soundclick). Following that, the first thing I want to do is to revisit some older material, yet I don't want to touch it while I'm still out of practice. The older material consists of guitar based acoustic prog rock that stretches back to 1999 and some other, mostly incomplete electro-pop material that was written in 2003-2005. Given the amount of work that I put into it, I really ought to try and make some sort of release out of it. I'm trying to fit in a bit of time for music each day.
The weather has begun to improve, so hopefully, I'll be able to get back into shape for cycling. In addition, carbooty season is getting back into full swing.