Micro Mart: Iomega 1TB ext HD review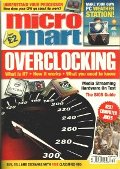 Checkout this week's Micro Mart (issue 1048, bought today) for my review of the Iomega Prestige external Hard Drive. This is a drive that I actually bought for myself when I spotted it in Tesco!
MM have some more of my stuff in the pipeline and I'll announce it here when I can.